Hair Farm's revolutionary hair modeling pipeline gives you precise control over the shape of your hair model. Hair modeling has never been so easy! If you can model anything at all, you will be able to model the exact hair that you want with Hair Farm!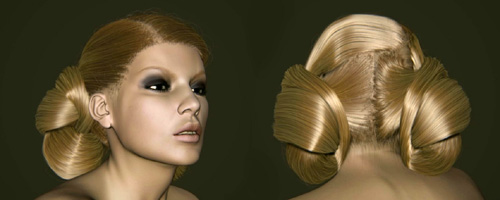 Hair Farm comes with various tools which make modeling all hair from fur to medium and long hair exceptionally simple. Even very long hair, which has been extraordinarily difficult with all previous hair modeling tools, is as simple as modeling any other object! The variety of modeling tools permits choosing your own way of modeling hair depending on your target hairstyle. With Hair Farm you don't need to be satisfied by some hair model that looks somewhat similar to what you imagined; Hair Farm allows you to create exactly what you had in mind and makes it easier than ever before!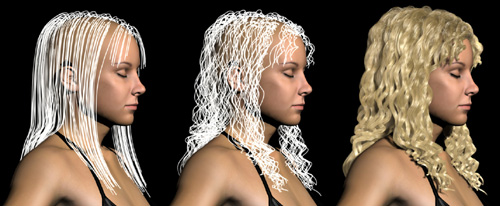 Hair Farm also has many hairstyling tools that provide global control over the shapes of individual hair strands. These hairstyling tools can be applied to any hair model in any order and any number of times, so that you can easily achieve the result you want. All hairstyling tools have various parameters allowing you to easily and precisely control their effect. Furthermore, most of these parameters can be controlled by assigning maps, and so you can easily have different parameter values for each hair strand if you like.
Check out the full comparison between the Hair and Fur modifier of 3ds Max and Hair Farm.