" Hair Farm has a VERY fast renderer. Not only fast, but very *solid* and *predictable* as well. This is made even better with the fact it's rendering curves, not segments, so you don't have to worry about how many segments you need for nice long flowing hair."
Chris Pember
Frantic Films
Hair Farm comes with an incredibly fast hair renderer. After you use this hair renderer once, you won't have the patience to use any other. Hair Farm Renderer can render millions of hairs within seconds!
Hair Farm Renderer always produces production-quality images with correct anti-aliasing and pixel blending. It does not have a "draft quality" setting simply because it does not need to!
The following figure is a comparison between the rendering speed of Hair Farm and the Hair and Fur modifier of 3ds Max. You can clearly see that Hair Farm is much faster. In this example Hair Farm is more than 35 times faster!
Too good to be true? Download Hair Farm Demo and see for yourself!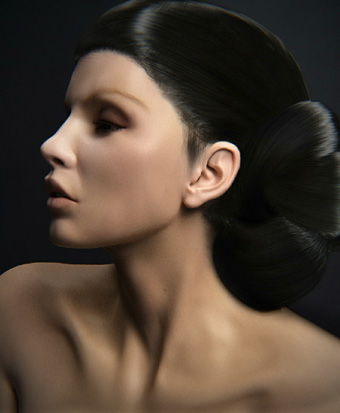 " I am blown away with the speed and power of Hair Farm. If you need realistic hairstyles created in hours rather than days, and you need them rendered in seconds rather than hours, Hair Farm is the solution for you."
Lee Perry-Smith
www.ir-models.com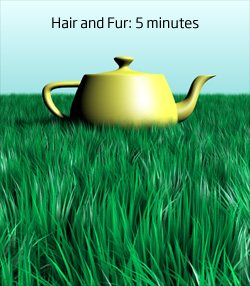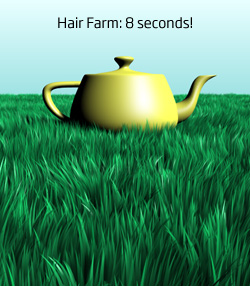 Furthermore, with Hair Farm you don't need to worry about finding the right value for number of hair segment while rendering, because Hair Farm Renderer does not render line segments, it directly renders curves! Therefore, regardless of the number of segments you use to define your hair model, you always get nice smooth hair.
Hair Farm also has an exceptionally fast ray-tracing engine. You can use this ray tracer for reflections and refractions as well as to render hairs from the camera.
Hair Farm Renderer works within the main renderer of your choice. You can use any renderer that supports 3ds Max plug-ins with Hair Farm Renderer. We have successfully tested Hair Farm with major 3rd party renderer plugins of 3ds Max like v-ray and Brazil r/s. Hair Farm also has an extensive set of render elements that permits easy compositing and post-processing. Moreover, Hair Farm allows you to automatically convert all hair objects to mental ray hair primitives and render using mental-ray's native hair renderer.
Check out the full comparison between the Hair and Fur modifier of 3ds Max and Hair Farm.
Hair Farm's Renderer Support
Scanline
mental ray
V-Ray
Brazil r/s
finalRender
Hair Renderer
Hair Farm
mental ray
Hair Farm
V-Ray
Hair Farm
Hair Farm
Render Elements
Yes
(native)
No
(native)
N/A
Yes
Renderer's Custom Cameras
N/A
N/A
Yes
Yes
Yes
Yes
Renderer's Custom Lights on Hair
N/A
N/A
No
Yes
No
Yes
Hair Receives Skylight Illumination
Yes
Yes
No
Yes
Yes
Yes
Hair Blocks Skylight Illumination
No
Yes
Yes
Yes
No
No
Hair Receives Global Illumination
Yes
Yes
No
Yes
No
No
Hair Blocks Global Illumination
No
Yes
Yes
Yes
Yes
Yes