Cluster Color Variations
A simple grass example showing how clusters can be used with color variations.
Hair Farm's Hair Generate, HairStyle Cluster, and HairStyle Wisps modifiers can assign cluster indices to groups of hair strands. These cluster indices can be used by Hair Farm's Hair Color Variation Map and Hair Mutant Color Map to assign the same color value to all the hair strands in the same group (i.e. cluster). This simple example file demonstrates how these cluster indices can be used for coloring grass groups.
To show what can be achieved with cluster color variations, four alternatives can be generated with this example file. There are the following:
No color variation: All strands get the same color.
Strand color variation only: All cluster get the same average color.
Cluster color variation only: All strands in a cluster get the same color.
Strand and cluster color variations: Each cluster has a different average color with different colored strands.
| | | | |
| --- | --- | --- | --- |
| No Variation | Strand Variation | Cluster Variation | Strand and Cluster Variations |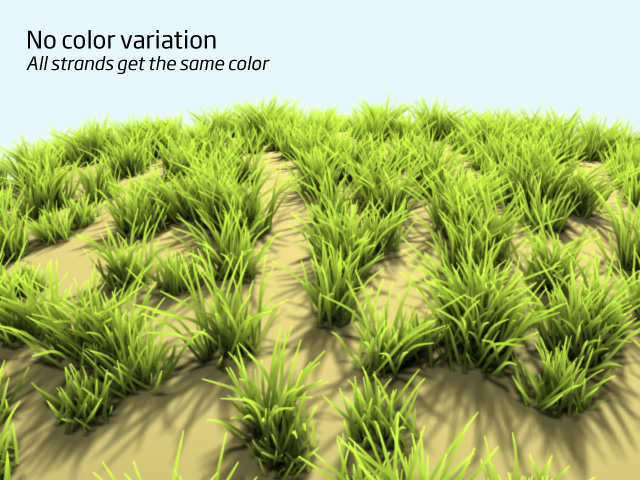 Download This File
File size is 31 KB | for 3ds Max 2009 and above

Check out the forum
discussion about this example file.